The Saints commemorated this week:
July 22, St. Mary Magdalene:
FIRST WITNESS OF THE RESURRECTION (22 JULY NT)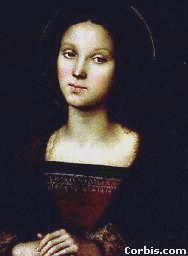 Mary Magdalene is mentioned in the Gospels as being among the women of Galilee who followed Jesus and His disciples, and who was present at His Crucifixion and Burial, and who went to the tomb on Easter Sunday to annoint His body. She was the first to see the Risen Lord, and to announce His Resurrection to the apostles. Accordingly, she is referred to in early Christian writings as "the apostle to the apostles."
Mary Magdalene, Mary of Bethany (sister of Martha and Lazarus), and the unnamed penitent woman who annointed Jesus's feet (Luke 7:36-48) are sometimes supposed to be the same woman. From this, plus the statement that Jesus had cast seven demons out of her (Luke 8:2), has risen the tradition that she had been a prostitute before she met Jesus.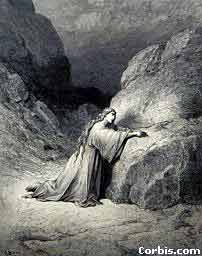 Because of the assumption that Mary Magdalene had been a spectacular sinner, and also perhaps because she is described as weeping at the tomb of Jesus on the Resurrection morning, she is often portrayed in art as weeping, or with eyes red from having wept. From this appearance we derive the English word "maudlin", meaning "effusively or tearfully sentimental." There is a Magdalen College at Oxford, and a Magdalene College at Cambridge (different spelling), both pronounced "Maudlin."
July 24, Thomas a Kempis
PRIEST, MONK, AND WRITER (24 JULY 1471)
Thomas Hammerken (or Hammerlein -- both mean "little hammer") was born at Kempen (hence the "A Kempis") in the duchy of Cleves in Germany around 1380. He was educated by a religious order called the Brethren of the Common Life, and in due course joined the order, was ordained a priest, became sub-prior of his house (in the low Countries), and died 25 July 1471 (his feast is observed a day early to avoid conflict with that of James bar-Zebedee the Apostle). Thomas is known almost entirely for composing or compiling a manual of spiritual advice known as
The Imitation of Christ
, in which he urges the reader to seek to follow the example of Jesus Christ and to be conformed in all things to His will. An extract follows:
| | |
| --- | --- |
| | When God bestows Spiritual comfort, receive it with a grateful heart; but remember that it comes of God's free gift, and not of your own merit. Do not be proud, nor over joyful, nor foolishly presumptuous; rather, be the more humble for this gift, more cautious, and more prudent in all your doings, for this hour will pass, and temptation will follow it. When comfort is withdrawn, do not immediately despair, but humbly and patiently await the will of Heaven; for God is able to restore you to a consolation even richer than before. This is nothing new or strange to those who know the ways of God, for the great Saints and Prophets of old often experienced these changes. ...Indeed, the temptation that precedes is often a sign of comfort to follow. For heavenly comfort is promised to those who have been tried and tempted."To him who overcomes," says God, "I will give to eat of the Tree of Life." |
July 25, St. James the Apostle
James the son of Zebedee and his brother John were among the twelve disciples of Our Lord. They, together with Peter, were privileged to behold the Transfiguration (M 17:1 = P 9:2 = L 9:28), to witness the healing of Peter's mother-in-law (P 1:29) and the raising of the daughter of Jairus (P 5:37 = L 8:51), and to be called aside to watch and pray with Jesus in the garden of Gethsemane on the night before His death (M 26:37 = P 14:33).
James and John were apparently from a higher social level than the average fisherman. Their father could afford hired servants (P 1:20), and John (assuming him to be identical with the "beloved disciple") had connections with the high priest (J 18:15). Jesus nicknamed the two brothers "sons of thunder" (P 3:17), perhaps meaning that they were headstrong, hot-tempered, and impulsive; and so they seem to be in two incidents reported in the Gospels. On one occasion (L 9:54ff), Jesus and the disciples were refused the hospitality of a Samaritan village, and James and John proposed to call down fire from heaven on the offenders. On another occasion (M 20:20-23 = P 10:35-41), they asked Jesus for a special place of honor in the Kingdom, and were told that the place of honor is the place of suffering.
July 26, the parents of the Blessed Virgin Mary

The Scriptures tell us nothing about the parents of the Virgin Mother, not even their names. An early but unreliable document, known as the Proto-Gospel (or Proto-Evangelion) of James, calls them Ann and Joachim, by which names they are customarily known. Our only real information about them, however, is an inference from the kind of daughter they reared.